Collaborative, multidisciplinary, comprehensive since 1994
In 1991, Congress requested that the National Research Council (NRC) outline a strategy for U.S. universities to carry out research to support the needs of sustainable agriculture and natural resource management in developing countries. Recognizing the importance of multidisciplinary on-farm methodologies in the performance and sustainability of agro-ecosystems, the NRC recommended that U.S. universities collaborate with host country interest groups to employ integrated, multidisciplinary research organized across agro-ecological zones. The NRC also recommended that the universities design their research to involve the ultimate beneficiaries of research: the farmers and landowners themselves. By drawing on and actively engaging in-country expertise and indigenous knowledge, the small-scale farmer as well as the rural and urban poor would play a pivotal role in the development of research. These recommendations, reported in Toward Sustainability (NRC, 1991), led to the creation of the SANREM CRSP and the subsequent USAID cooperative agreement with a consortium led by the University of Georgia (UGA). For quick navigation, click one of the following links to jump to that section of the page:
Phase I
SANREM CRSP Phase I (1992-1997) was developed as a program of training and information exchange with landowners and decision-makers in agricultural regions of developing countries. Researchers focused their activities on four principles that established the foundation for SANREM's focus:
participation
interdisciplinarity
multi-stakeholder involvement, and
landscape/lifescape scales.

During Phase I, SANREM's main projects were in the Philippines, Ecuador, and Burkina Faso, with smaller targeted activities in Cape Verde, Costa Rica, Honduras, and Morocco. Research efforts sought to understand relationships and linkages in a landscape setting by combining agricultural, ecological, and social sciences for a mixture of views and ideas on natural resource management (NRM). Researchers focused on the participatory involvement of decision-makers and implementers by working to develop sustainable natural resource management at the farm, landscape, and provincial levels. This was achieved through:
characterizing landscape and lifescape parameters to better understand linkages and constraints to sustainability
designing and evaluating alternative strategies with farmers and community stakeholders (multi-stakeholder training/participation), and
working to enhance individual and institutional awareness and capacity.
Information resources generated through all phases of the SANREM CRSP can be found in the SANREM Knowledgebase on this website. For more information about the research activities conducted in Phase I, see Past Research Activities: Phases I & II Archive, 1992 – 2004.
SANREM CRSP Phase I Leadership
Program Director William Hargrove (1992-1997)
Deputy Director Constance Neely (1992-2002)
Phase II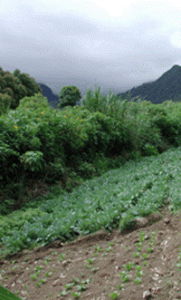 SANREM CRSP Phase II (1997-2004) was marked by the expansion of efforts to promote sustainability and natural resource management. Continuing the programs started in Phase I, SANREM expanded its reach to include key decision-makers at national, regional, and global levels. While some projects continued in the same regions, researcher efforts reflected continuing efforts to include decision-makers and apply relevant, sustainable solutions to agricultural dilemmas.
We have archived the website created by the University of Georgia for Phase II. For more information about the research activities conducted in Phase II, see Past Research Activities: Phases I & II Archive, 1992 – 2004. Click here to view the SANREM CRSP Phase II archived website.
SANREM CRSP Phase II Leadership
Program Director Robert Hart (1997-1999)
Deputy Director Constance Neely (1992-2002)
Program Director Carlos Perez (2000-2004)
Deputy Director Constance Neely (1992-2002)
Deputy Director Carla Roncoli (2003-2004)
SANREM CRSP Phase II Projects
Andes
Project leader: Robert Rhoades, University of Georgia
The Andes program was established in 1994 in a watershed roughly 100 km from Quito, Ecuador's capital. In this area, residents were struggling with the decreasing ability of the watershed to support the local population and inadequate local knowledge of sustainable practices, coupled with a lack of government policies and interventions. These barriers to sustainable natural resource management provided a platform for researchers to provide support to local, regional, and global decision-makers concerned with sustainable development in this mountainous region.
On this website you can read the abstract and table of contents of the final project publication, "Development with Identity: Community, Culture and Sustainability in the Andes."
Southeast Asia
Project leader: Ian Coxhead, University of Wisconsin
The Southeast Asia project in the Manupali watershed in the Philippines was SANREM's first research site. Established in 1992, this project was designed to support decision-makers in circumstances where global and regional markets, as well as the devolution of authority, strongly influence local natural resource management.
Here you can read the abstract and table of contents of the final project publication, "Land Use Changes in Tropical Watersheds: Evidence, Causes and Remedies."
West Africa
Project leaders: Michael Bertelsen and Keith M. Moore, Virginia Tech
During Phase II, the West Africa group provided research and methodological support to decision-makers facing stakeholder conflict over access to and use of resources in Mali. In dialogue with community leaders, researchers focused on issues of local development and sustainable natural resource management. These efforts adapted a Holistic Management™ approach, which understands overgrazing to be a result of the amount of time livestock spends on a patch of land, not the number of animals in the grazing herd.
We have the abstract and table of contents from the final project publication, "Conflict, Social Capital and Managing Natural Resources: A West African Case Study."
Global Decision Support System
Project leader: Neville Clarke, Texas A&M
This initiative developed and demonstrated the utility of geo-referenced methods and related data/information bases for assessing impact of changes in technology and policy on agriculture and natural resource use. The project developed a global decision support system (GDSS) that included critical foundation data for spatially explicit analyses, access through global networking to other models, and sources of relevant information.
Phase III
In 2004, Virginia Tech was named the CRSP's new management entity (ME), signaling the beginning of SANREM CRSP Phase III. The transition to Phase III opened a more competitive phase in project selection and the building for the SANREM Knowledgebase (SKB) providing access to SA and NRM research. Under Program Director Theo Dillaha, the ME continued to apply the recommendations set forth by the NRC, striving to promote stakeholder empowerment and improved livelihoods through knowledge-based sustainable agriculture and natural resource management systems. The core of Phase III is the five Long-term Research Award (LTRA) activities: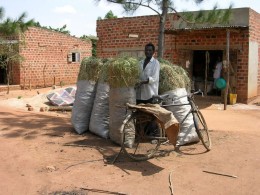 LTRA-1: Decentralization Reforms and Property Rights
Principal Investigator: Elinor Ostrom, Indiana University
This project, working in Uganda, Kenya, Mexico, and Bolivia, sought to link policy changes with outcomes for people and the environment. Researchers focused on the role of institutions at multiple scales and examined how decentralization policies create incentives that affect behaviors and livelihoods as well as outcomes for forests. Read More >
LTRA-2: An Agricultural Markets Model for Biodiversity Conservation
Principal Investigator: Alexander Travis, Cornell University
In Zambia, LTRA-2 in partnership with COMACO — Community Markets for Conservation — sought to conserve biodiversity while improving food security and rural livelihoods. COMACO had established community trading centers and food-processing facilities in Zambia's Luangwa Valley. SANREM researchers worked to expand COMACO trade centers' potential for sale of rice, peanuts, soybeans, and other crops in the national and export markets. Their facilities were able to make high-energy protein supplement (HEPS), a soy product for the undernourished and HIV/AIDS patients. Read More >
LTRA-3: Watershed-based Natural Resource Management for Small-scale Agriculture
Principal Investigator: Jeff Alwang, Virginia Tech
Most households in rural watershed regions of the Andes rely on agriculture or other natural-resource based activities for their livelihoods. SANREM researchers monitored the social, economic, and environmental effects of livelihood changes in watersheds of Chimbo, Ecuador, and Tiraque, Bolivia. The aim of this project was to improve farm families' lives and incomes by finding profitable alternatives, to identify constraints to adopting these alternatives, and to encourage genetic diversity in crop selection. Read More >
LTRA-4: Practices and Strategies for Vulnerable Agro-ecosystems
Principal Investigator: Corinne Valdivia, University of Missouri
Amid climate, economic, and social changes in the Andean regions of Bolivia and Peru, small landholders are increasingly vulnerable to environmental and market shocks and stresses. This project works with farmers to explore ways of adapting to change and building resilient livelihood systems. The goal is to achieve food security and biodiversity by teaching rural communities how to conduct research and develop production alternatives. Read More >
LTRA-5: Agroforestry and Sustainable Vegetable Production
Principal Investigator: Manuel R. Reyes, North Carolina Agricultural and Technical State University
Communities in many forest and vegetable-producing watersheds in Southeast Asia suffer from poverty, while forest, soil, and water resources are being degraded. The objective of LTRA-5 is to develop economically viable and ecologically sound vegetable-agroforestry systems (VAF) and to quantify the potential economic and environmental benefits of these systems. Read More >
SANREM CRSP Phase III Leadership
Program Director Theo Dillaha (2004-2010)
Associate Program Director Keith M. Moore (2004-present)
Phase IV
On June 3, 2009, USAID informed the Management Entity that the SANREM CRSP would be extended until 2014. The letter cited the continued relevance of sustainable agriculture and natural resource management during the ongoing global food crisis and commended SANREM on its technical progress and management in the past five years.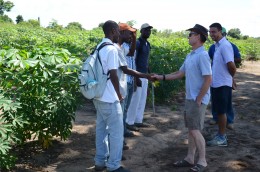 After consulting with USAID/Washington, other USAID missions, and a large number of SANREM CRSP stakeholders around the world, the following research theme was chosen for SANREM CRSP Phase IV: "Increasing smallholder food security through the introduction of conservation agriculture production systems (CAPS)." Farming systems with CAPS will maintain a year-round soil cover, minimize soil disturbance from tillage, and utilize crop rotation systems.
During July and August 2009 a request for applicants (RFA) was widely circulated and the SANREM CRSP received 15 proposals for Long-term Research Awards (LTRAs). The LTRA applications were reviewed by a panel of SA and NRM researchers. The proposals underwent a two-stage review process and were rated on the basis of scientific merit, research impact, capacity building, participatory partnerships, and inclusion of gender and minority issues.
In 2012, the program was recognized as one of several Feed the Future Innovation Labs, no longer as a CRSP. Now, the program is formally known as Feed the Future Innovation Lab for Collaborative Research on Sustainable Agriculture and Natural Resource Management, or Feed the Future SANREM Innovation Lab for short.
Seven LTRA activities were selected for funding:
LTRA-6: A CAPS program for the Central Plateau of Haiti
Principal Investigator: Steven Hodges, Virginia Tech
After decades of violent conflict and political upheaval, Haiti's agricultural sector is unable to produce enough food for the nation's population of nearly 9 million. The goal of this project is to reduce food insecurity for small-scale farmers in the Central Plateau of Haiti.
LTRA-7: Pathways to CAPS in the Andes
Principal Investigator: Jeff Alwang, Virginia Tech working with Penn State University
Rural populations in the Andean region of South America are frequently dependent on a single food crop – the potato. The keys to addressing food insecurity in the area are: improving potato yields, reducing yield variability, and introducing companion crops and activities to raise farm families' incomes.
LTRA-8: Improving soil quality and crop productivity through CAPS in West Africa
Principal Investigator: P.V. Vara Prasad, Kansas State University
For West African countries such as Ghana and Mali, investment in agriculture is critical to reduce poverty and stimulate economic growth. Improved soil quality and water retention can be achieved through reduced tillage, perennial ground cover, and integrated nutrient, water, and pest management practices.
LTRA-9: Developing sustainable CAPS for smallholder farmers in Southern Africa
Principal Investigator: Neal Eash, University of Tennessee
Subsistence farmers across Southern Africa struggle with food security and often address the shortfall by plowing more land, which results in degraded soils that further limit crop potential. To address these challenges, this project will research the effectiveness of different no-till and tilled crop management systems.
LTRA-10: CAPS for smallholder farms in eastern Uganda and western Kenya
Principal Investigator: Jay Norton, University of Wyoming
Sub-Saharan Africa faces formidable food security and environmental challenges. This project proposes to develop field-scale farming system components through a participatory process that incorporates co-innovation and co-design among researcher, advisors, and men and women stakeholders in agriculture.
LTRA-11: CAPS among tribal societies in India and Nepal
Principal Investigator: Catherine Chan-Halbrendt, University of Hawaii at Manoa
Traditional agriculture in tribal and ethnic societies in India and Nepal is increasingly relegated to less productive land, often on steep slopes. This project will apply a participatory agroecological framework to prioritize local resource use preferences, develop improved conservation practices, and identify market opportunities to enhance livelihood options.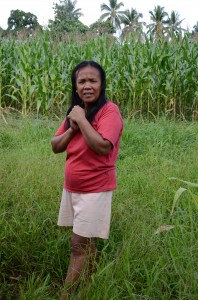 LTRA-12: Conservation agriculture for food security in Cambodia and the Philippines
Principal Investigator: Manuel R. Reyes, North Carolina Agricultural and Technical State University
Degraded landscapes are expanding annually in Cambodia and the Philippines, decreasing agricultural productivity, which in turn heightens food insecurity and exacerbates poverty. This project will show how conservation agriculture principles and practices of minimal soil disturbance, continual mulching, and crop rotations can be adapted for local conditions.
SANREM Phase IV Leadership
Program Director Theo Dillaha (2004-2010)
Interim Program Director J. Michael Kelly (2011)
Program Director Adrian Ares (2011-present)
Associate Program Director Keith M. Moore (2004-present)
Assistant Program Director Jennifer Himmelstein (2013-present)